E

P

ITT
E

​​

nglish

- ​

P

​

olish Interpreting, Translation, and Tuition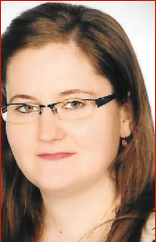 ​​ " Any tool has multiple uses. Language, for example, can be either a bridge or a barrier." /Shane Tourtellote/

​​Hi,

My name is Anna. I am a linguist who is passionate about languages and who always strives to develop skills in order to provide the highest standards of work tailored to individual needs. I have over 8 years of experience as an interpreter and translator, and over 3 years of experience as a language tutor. I offer my services in English-Polish and Polish-English combinations helping individuals to overcome language barriers and aiming to build a communication bridge between them. I have the following qualifications and experience:

 ​​Qualifications:
Business and Business English:
Master's degree in Business English

Certificate in International Business English Training (CertIBET)

​Diploma Level 7 in Marketing

Diploma Level 7 in Human Resource Management

Diploma Level 5 in Human Resource and Business Management
Teaching English:
Bachelor's degree (B.A. Hons) in Teaching English

Qualified Teacher Status

Certificate in Teaching English to Speakers of Other Languages (CELTA)

Certificate in Teaching English as a Foreign Language (TEFL) 
Interpreting and Translation:
Diploma in Public Service Interpreting in English – Polish Law (DPSI)​

Diploma in Police Interpreting in Polish (DPI)

Sworn Interpreter/Translator
Additional qualifications/ courses attended:
Diploma Level 3 and 4 in Health and Social Care

Diploma Level 3 in Family Law

​Diploma Level 3 in Wills and Probate

Diploma Level 3 in Property and Land Law

​Diploma Level 3 in Crime Analysis

Diploma Level 3 in Forensic Science and Law Enforcement Criminal Profiling
​P
rofessional Membership:
Register of the Sworn Interpreters and Translators of the Ministry of Justice of the Republic of Poland

National Register of Public Service Interpreters


Chartered Institute of Linguists: Member; Chartered Linguist (Interpreter), CL (Language Specialist)

Home Office Central Interpreters Unit

​International Association of Professional Interpreters and Translators

Data Protection Register
over 500 hours of interpreting, and sight – translating in surgeries, hospitals, Healthcare and Disability Assessment Centres, Children and Family Social Services 
over 7,000 hours of interpreting, translating, sight – translating in/for Her Majesty's Courts and Tribunals Service, Police Stations, Crown Prosecution Service, Probation Service, Home Office, British Transport Police, and Insurance Investigation Companies
over 3 years of English language tuition delivered to various age groups
​Irrespective of what your requirements for interpreting, translation, or tuition assignment are, I will endeavour to fulfill them to the best of my skills while maintaining impartiality, confidentiality, punctuality, and accuracy.
Should you have any questions, please do not hesitate to contact me  and I will be happy to reply to them.
​I am looking forward to hearing from you.
​Anna Maria Ruchalowska